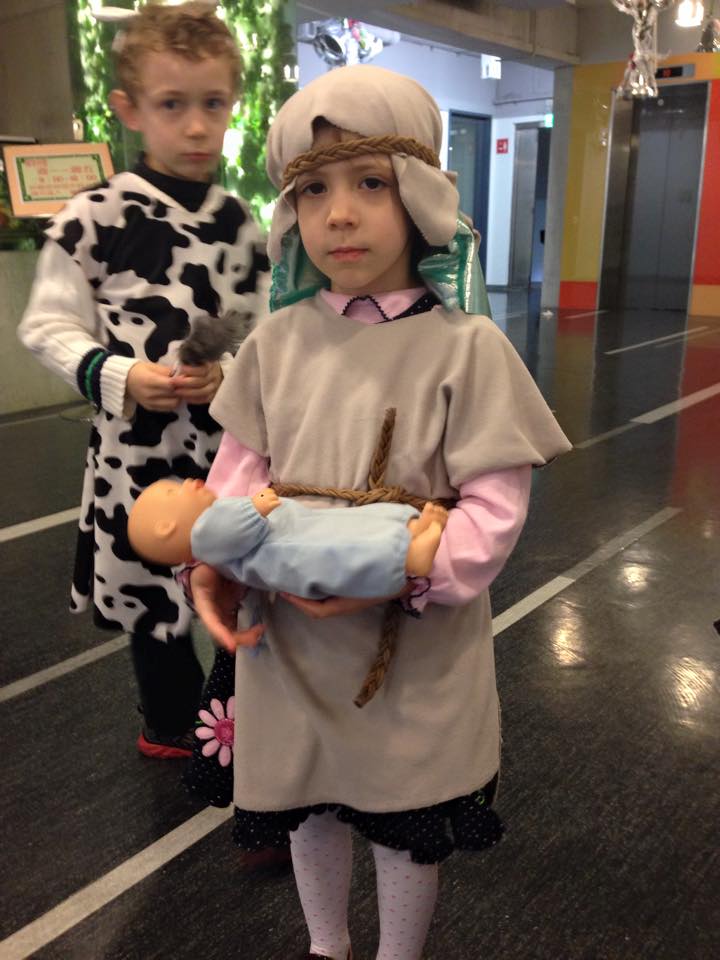 Eva plays a serious Mary, with brothers as cows, for church Christmas service
At the performance. Eva and Eli performed in separate classes.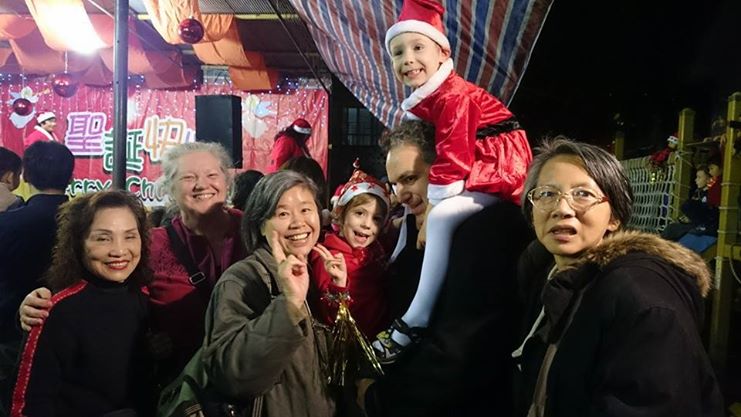 With adoptive aunties at Eva and Eli's performance
This was one of our better Christmases/winter breaks. In the past we were still in the age when our kids were too little to appreciate/understand/acknowledge the season, and bringing them anywhere together was still pretty horrible. This year, however, we had a nice mix of school activities, church activities, and family togetherness. Emily still gets a bit homesick at the holidays, and we had a bout of stomach illness. Still, to me it feels like we've turned a corner.
Eva and Eli had performances at their preschool, which were quite impressive. Sam did his performance at his school today.  I've been highly impressed by the quality of the kids' performances. I don't think in my K-12 schooling I was ever part of a choreographed singing or dancing number and I certainly don't remember kids doing this at ages 4, 5, or 6. Eli was initially wary about going up, but when he realized I'd stay in his line of sight and that he would get a lighted wand, he decided to go for it. Eva was enthusiastic and even was singing along. We were especially lucky this time to have a coworker come with some friends. It was nice to have a hometown crowd.
Sam's performance also went well. Here they are today at Lih-Jen. We were even able to sit behind the school's founder for part of the performance, although parents produced a wall-of-photography that encircled the presentations by the kindergartners and first graders. (I always wonder what will happen to these millions of pictures of the children recorded at every event.)
With church, we've been grateful for activities arranged by Sarah Lakkis. This year they did gingerbread houses, candle making, and a small children's performance that included some of the kids (she made some really nice costumes).
On Christmas day Sam developed a stomach bug. Ironically, he was so happy about the presents and the excitement of the day that the lack of appetite, 5 hour nap, and illness didn't really phase him.
I was also grateful for a week away from campus. I had a lot to do, but it was nice to be able to work more from home. I'm trying to write up notes for my class next semester, write letters of recommendation, and finish a sermon. Next week Sam starts a new semester. A week later he gets nearly a month of winter vacation. This will also mark a change for us, since we'll have more schedule but also an older kid to plan for. I'm hopeful that we'll find some good things to do with the time. We'd been slow on getting Sam back into sports or other activities with the start of the semester, but now we're starting to re-launch these things. Sam had his first week back at baseball last week and we also did pinewood derby with the Scouts. I'm hoping that we'll have some good ways to use the weeks ahead.