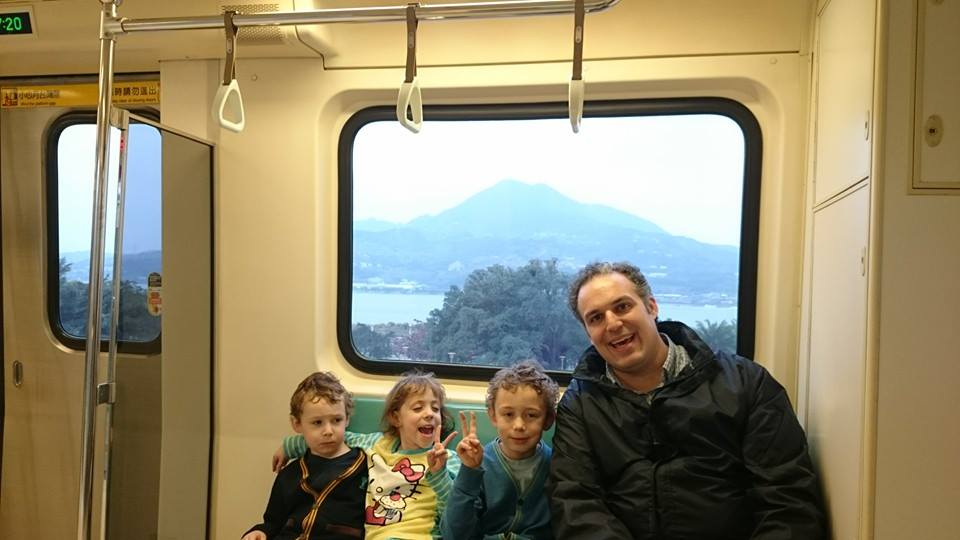 We've just finished the Lunar New Year break. The picture above is from our annual trip to Danshui/Tamsui. Today starts a new semester. Sam, Eva, and Eli are all back in school. I'm finishing up lecture notes and making a handbook for a class tomorrow. This semester feels like a big shift to me in several ways. The curriculum has been restructured, so I don't have a required survey like I would normally (classes that before I'd taught for first and third year students will now be taught in the second year) and am instead teaching several smaller classes: an elective, a DMin course, and a class for a visiting group with Council for World Mission.
I joined two academic projects last semester, the first is a group of major Taiwanese academics surveying congregations in Taiwan, and the second is the "Chinese Christianities Seminar" that a group of us proposed for American Academy of Religions (Alex has a nice description here). The survey group is well established and has been going for years, while the Chinese Christianities seminar is brand new. I'm excited to be part of these efforts.
I also asked our administration at Taiwan Seminary if they could reconfigure my title/job description at the Seminary, so I will henceforth be a "Special Professor," outside of the normal rank system. For the purposes of accreditation I'll be something like an "Associate Professor of Practice." In the last fifteen years only three professors here were formally promoted within the system (all are PCT pastors and alumni of our Seminary, so the criteria are different from most academic systems). This didn't seem a viable path for me, so I essentially asked my school to create a separate category for me. Since I am here via PCUSA, this also seems to more accurately reflect the multiple commitments I have. I'm on a different calendar than the other teachers, a part of my work involves relating to US churches, and more of my work is cross-cultural. The best part of this was the chance to talk things through with everyone and to get us all on the same page.
At our church, I'm hoping to put together a series on living cross-culturally. Presbyterian pastors from New Zealand, Singapore, and the US are coming through in the coming months, and I'd like to connect them together in a series on 1.5 or second generation Christianity. All have worked with 1.5/2.0 generation ethnically Chinese Christians in different contexts, so I think it would be really interesting to see what we could learn from them.
I'm hoping the year of the sheep was will be one of calm, pastoral vistas and slow growth. The last year we did a number of major transitions (location, schooling for kids, a fairly intense summer in the US), so it would be great to have a year that is a bit more peaceful.