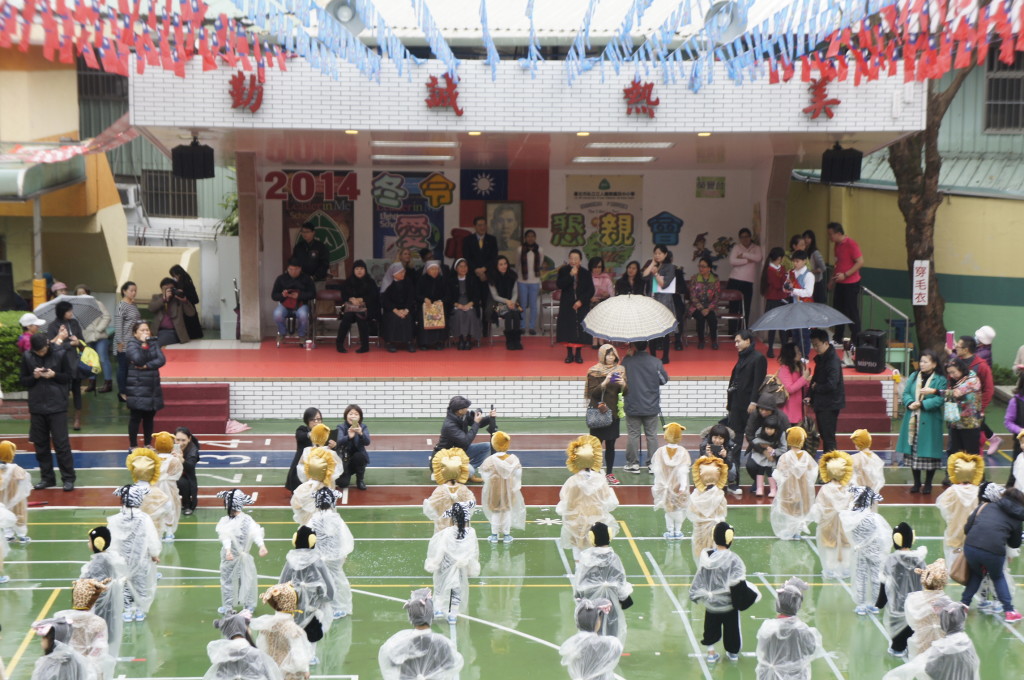 From the balcony, you can see the kids doing their Christmas performances. The founder of the school brings her greetings
I have basically no memories of performing in elementary school, but at Lih-Jen, kids seem to do regular peformances, marching for assemblies, etc.
He's hard to make out, but Sam's the spiderman in the center of the frame
I recently checked my site stats and realized that the vast number of visitors who come here from Google come to this site for my earlier post on bilingual schools. I didn't really know these schools existed until a year or so ago, so I can imagine others are also trying to get a sense of how they work. In our initial searches, I didn't find any other parents writing about these schools (at least in English). So… I thought I'd share a bit more about Sam's experience at Lih-Jen and how our bilingual experiment is going.
I wrote about visiting bilingual schools earlier and then wrote about how our son was doing in October, halfway through the semester. Sam's now just finished his first semester of first grade and there's a new semester starting next week. During the semester students take two big tests, one at the midterm and one at the end. Sam was a little slow getting started—his bopomofo wasn't as good as classmates at the start of the semester and he hadn't studied English formally in kindergarten. Nonetheless, he got one of a few perfect scores on his first English test and scored in the 90s on Chinese, lower than classmates but not bad. On this last set of tests he scored in the 80s and 90s for Chinese and English. Despite the more relaxed kindergarten and slower start, he's doing just great and we feel happy with the choice we made.
In general, he really likes things. We have him in Lih-Jen's Chinese as a Second Language program. As near as I can tell, no other school has something like this. It means that he gets daily help studying Chinese in a small group with a kindly retired Chinese teacher. He likes that group a lot and has some classmates from Malaysia and other places. We think that being in CSL means that he gets help on his Chinese tests too. I'm all for rigor and fairness, but it's also nice that he can get help if he struggles. If you're reading this and know Sam, you may be asking, "how is it that a kid who did four years of preschool/kindergarten in Taiwan still needs CSL help?" What I'd say is that it's just a really nice buffer for him. We can help him with Chinese, but in practice it's great that he gets pulled out of the bigger Chinese class and gets more focused attention. His Mandarin is really pretty good now. I think if he spent all his time in the larger class, he'd get less practice talking and less hand-holding with things like stroke order for writing Chinese characters. CSL seems less strict than the regular program and we're grateful for that too.
Socially it has been a good experience. He struggled a bit initially with the more Taiwanese tendency to scold students. Teachers just scold a lot here and it's seen as a way to keep kids on track. I have to say that as an adult I don't particularly like being scolded. I think Taiwanese teachers are just a lot more likely to do things that in the States we wouldn't do (compare students out loud, use shaming language, etc.). Sam could tell me who all the top test takers were after the last test, since the teacher identifies them and gives them a certificate. We've also had a few times where we have had some mild friction. Sam was a bit upset that he wasn't elected for a position in his regular Chinese class, and said most kids were chosen for something. This is probably because he gets pulled out for CSL, but may also be because he's different. We've also had times where people have seemed a bit abrupt with us, but I think this is just language.
The school has won us over in some other ways. It includes a weekly computer class, some music, and some play/nap time. There are several teachers, so if you get someone who's not a great fit it's not the end of the world. We chose bilingual school as a compromise over local public school, which has some afternoons off and which would have required us to organize activities on our own. Sam's set to do martial arts one period a week in the spring, which should be nice. He seems to get along with most of his classmates and we've found more of a social circle with parents than we ever had before. As non-native speakers, we sometimes get confused. I thought his winter break started next week, but actually it's just that they are starting the new semester then because lunar new year is so late this year.
My sense is still that so far it has really been worth it. Sam's been able to be part of more Chinese-language gatherings. He goes to Sunday School at church, and we're going to start him doing baseball again. He can play with other kids on the playground using both languages. Our main reasons initially for bilingual schooling were to get him an English curriculum we didn't have to teach, to build a base of written/spoken Chinese, and to have activities that we didn't have to arrange ourselves. On those counts, it's been a successful experiment.
I do have some caveats on the bilingual schools:
It would be a lot harder with no Chinese at all, and it would probably be easier if one parent was a native Chinese speaker.
It's also a lot easier if your kid has a base of both Chinese and English heading into schooling. Sam's Chinese was rusty after a summer in the US but he got it back quickly. I think starting Chinese "cold" would be very hard for an elementary-aged kid. In my experience, for a kid or an adult, it takes at least half a year for basic comprension and a full year for conversing, and that would be hard on an older kid without any Chinese background.
Sometimes there will probably be values conflicts. We often find the homework excessive, since we'd rather spend more time doing free reading or family activities. The teachers have been okay with it when we write "Sam did a half hour of homework but looked tired, so we put him to bed."
The bilingual schools probably have a little more give than either local public schools or the expat schools.
The bilingual school parents tend to be wealthy corporate types. For me, in a churchy, academic world, it is a nice change, but it means that there are a lot of kids arriving in expensive cars and doing winter breaks in Europe or Japan. Basically all of his classmates are studying music privately. This would probably be the same at TES or TAS, and maybe even just for downtown regular schools. Still, it's an issue (honestly, most of my coworkers from PCUSA have said the same thing about the schools their kids attend).
Taiwanese parents often seem to be trying to figure out how to game the experience. In a group of five parents, several had a kid at Lih-Jen and another kid at one of the other schools (Kang-chiao, Fu-Hsing), and they were often trying to figure out which school was best (often understood as the one that gives the most homework). When we lived near Tianmu, I know colleagues were aware of which was considered the slightly better junior high school and had their kids on waitlists. There's a lot of pressure on studies.
If you came to this page looking for information on bilingual education in Taiwan, feel free to send me an email. I spend a lot of time thinking about culture and how to be a foreigner here. I'd love to hear from others facings similar challenges. I like cross-cultural parenting books and am trying to figure out how to do this. I think so far it's been a good experience, but we've definitely learned some lessons along the way. I'd love to hear from others doing something similar.