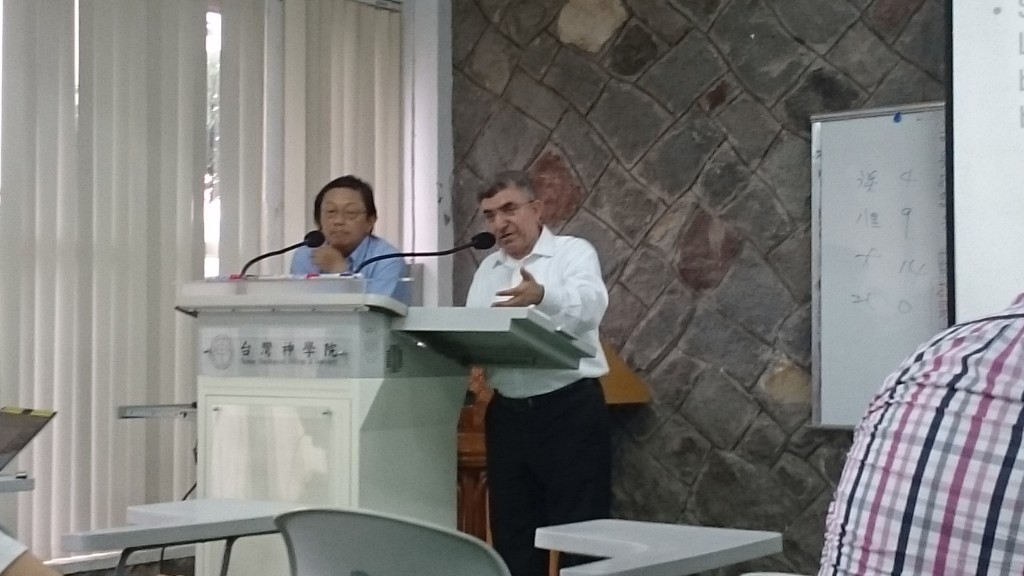 Today on campus via an invitation from the PCT General Assembly office is a guest lecturer, Zeki Saritoprak, who is speaking on Jesus in Islam. The lecturer is Professor in Islamic Studies at John Carroll University. Our senior historian, Cheng Yang-en, is translating. It is a nice overview of how Jesus has been portrayed in the Koran, in Islam, and in modern interpretation. Saritoprak has published a book on this recently, Islam's Jesus. 
Students at our seminary used to do a full semester of world religions and a full semester of Taiwanese religions, but now they take just one semester of Taiwanese religions, and can select an alternate course in its stead. It's nice to have visitors who can fill in this gap. My experience is most students here really only know their own tradition (and sometimes another family tradition), but know almost nothing about Islam, Buddhism, etc. Many have never met a Muslim or talked extensively with someone from any other tradition.
In the spiel I do on Jonah I also talk about Jonah's use in other traditions (the book is read on Yom Kippur and there's a "Fast of Jonah" in the eastern Church). The Qur'an also includes several sections that treat Jonah (Jonah is the only minor prophet named in the Qur'an). These types of topics are also interesting to me–how does a figure like Jonah (or Jesus) appear in different traditions, and how is he interpreted today?