After the second day of second grade, with Harry Potter drawing.

Samuel's back in school, now in the second grade. It has been a smoother transition in general this year. Last year he was looking at a new place, new school, new teachers, new classmates, homework for the first time really. The teacher-student relationship also changed. Sam had attended a large kindergarten in Tianmu where he was in a large class with several teachers. The head teacher had really looked out for him, and it was still a pretty relaxed atmosphere.
This year Samuel seems fairly happy at school. There's a group of other kids with international experience—Claire, Chloe, Kaylin, Akuma, Adeeb, and Émile. He likes the group of them. He has Mr. Nick for the first time as his English teacher and likes the class. His Chinese teacher, Li Laoshi, is the same for the second year, which is nice, and she's been willing to work with us.
I'm admittedly a kind of Goldilocks parent: I don't want Sam to have too much homework or feel too stressed out or scolded, but I also don't want him to think school's unimportant or to drift off in studies. The "just right" education is hard to find. This week he wasn't bringing home his Chinese homework, so Saturday I went over to the school with him and made him go get it. Here's the photo of words he was to copy out: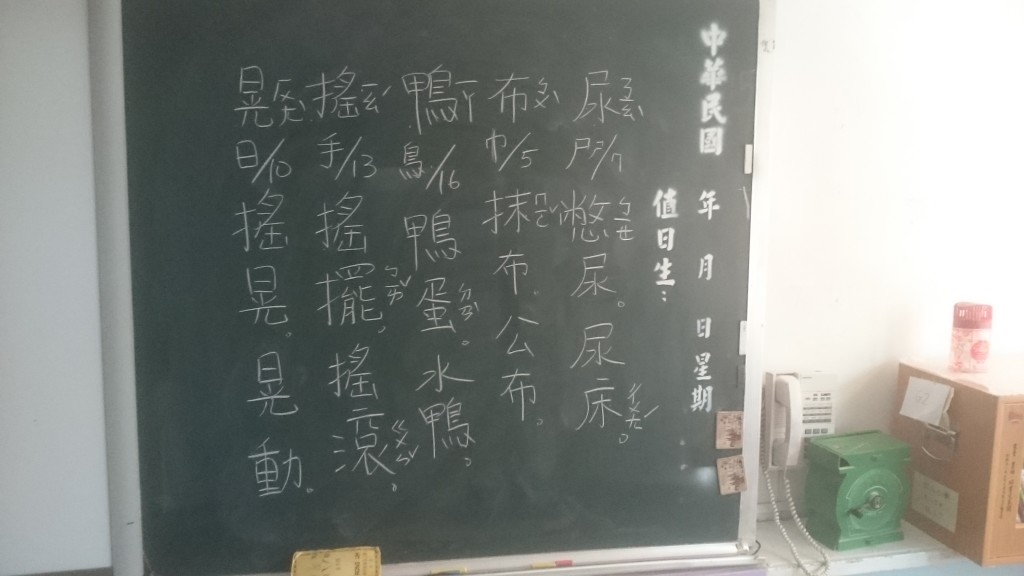 I don't know some of these characters! Hang in there Sam!
He was a bit grouchy about doing it, and I think his original plan was to just do CSL homework at a relaxed pace. I'd checked in with his teacher last week and she said that students who do CSL usually just do their Chinese there, but I'm a little afraid Sam may not keep up with the main class. Last year he pretty much could take the tests with the other students and stay close to where they are. I am glad, however, that his English seems on track and that he seems like he's tracking everything in Chinese. I'm also really glad he seems to have a group of buddies he enjoys seeing every day. Yesterday he seemed really happy that he'd gotten positive feedback to his English sentences and characters, so I think we're on track.
There are other things that took me a while to figure out. Sam started to demand that we make him lunch instead of having him get it at school (in the first two years, normally kids just have lunch at school). I think partly this was a desire to be like other kids, whose parents have opted them out of the meals for various reasons. But it also turned out that if he brought a snack he could share it with other kids and get friendship points. So we've agreed to improve his snacks. Apparently, students are normally required to finish their whole meal also, although it sounds like Sam's teacher doesn't make a big deal out of it.
Emily relates how when she asks kids here how they like school they often say things like: "it's okay" or "I'm used to it now." I know that different cultures describe schooling, childhood, and parenting very differently. In Taiwan, schooling is generally seen as hard work but necessary. It's definitely an interesting system. My guess is fewer kids fall through the cracks here, but also that there's a surplus of work and advice.