Last night I took the kids to Tianmu to visit our old baomu/nanny, Lee Chiung-Ling. Chiung-Ling was a nearly perfect help for us in all things parenting in Taiwan. She helped with the twins for about a year and a few months, from March 2011 until June 2012. Chiung-Ling had been a bao-mu (保姆lit. "protective mother") for about seven or eight years at that point, mostly working abroad. Before that, she worked at facilities at Taiwan Seminary for nearly twenty years, so she knows a whole generation of pastors and teachers in PCT and stays on good terms with my school's staff. She did her baomu work in Vancouver, where she helped people do the traditional Chinese "month of sitting" and did nannying for (I think) six or seven years. I learned a lot from her about life and culture here. She still lives with her husband and her extremely healthy, seventy-something (probably mentally ill) mother-in-law. It can't be easy.
I think Vancouver was a mixed experience for her. She told me stories sometimes about being stuck in transit and unable to leave a small part of the airport, or being kicked out of Costco because her boss insisted she use her card, even though she was dubious. Her grown children are very bright and are wonderful human beings, but moving into an all-English environment in high school was hard on them. She understands all of the cross-cultural life issues we've had here: paperwork in triplicate, driving in a foreign country, being misunderstood, working on kids' schooling, etc. I'm sure we were confounding to her at times, since in the past she'd always worked with first generation immigrants in Canada, and we are instead more-or-less first generation immigrants here.
She was able to help translate institutions and cultures for us. She knows my specific school, church life here, and kid culture–that's a very rare combination. We talked her into coming back half-time from early 2014 to mid-2015. She really was a life-saver. In the past when one of us was traveling she could help the other cope. She attended a retreat with us abroad. When her daughter got married, I did the wedding, and then she's helped or is helping her kids raise their grandchildren (she is returning to Vancouver next week). One of the things that always surprises me is how culture is often so invisible. Often we only confront a new set of vocabulary when we're faced with an immediate crisis: childbirth in a local hospital, enrolling children in lotteries for schools, negotiating work situations. I really feel grateful to have had such a wise guide for several of our years here.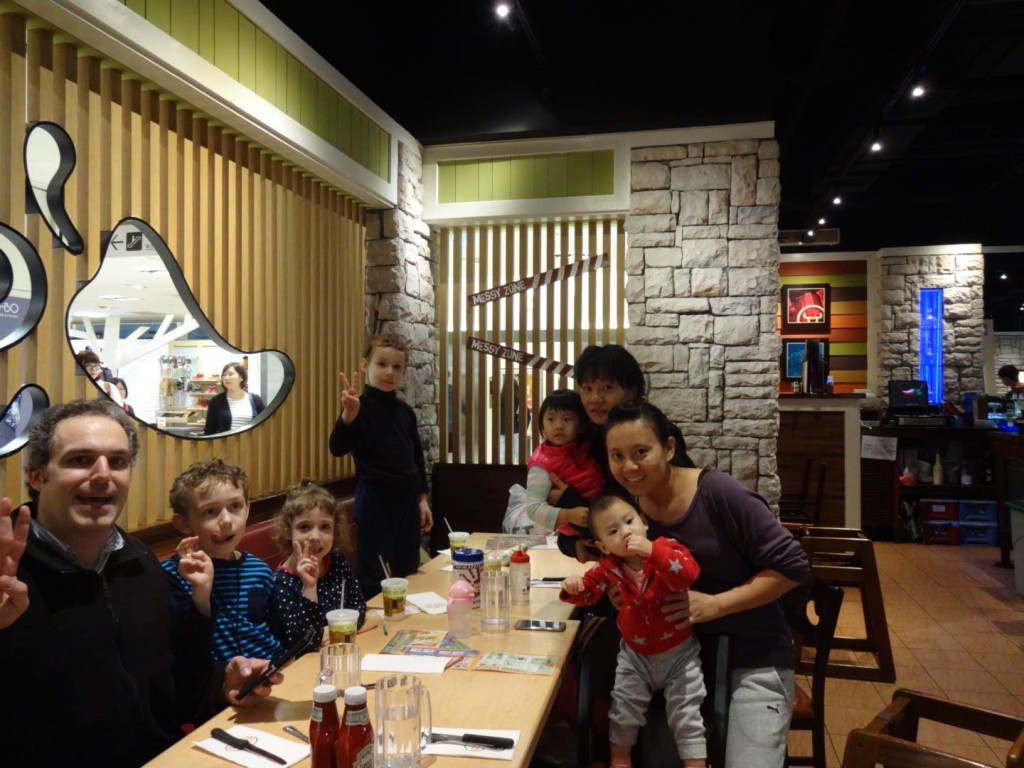 Last night I took the kids to Tianmu to visit her and her daughter and two granddaughters. It was one of those rare nights where everything goes smoothly. The kids all switched to Chinese at dinner, which I know they can do but rarely see myself.  Eva bonded with her old friend, 3 1/2 year old Tong-tong. Eli told Chiungling he'll miss her. We played in the empty dark park for an hour and said goodbye. Not a lot of people read this blog, but the ones who come here almost always come here looking for the few posts I've written on bilingual schools and bilingual education. I think part of what has made us viable here bilingually and biculturally has been a mixture of a few stellar teachers (Sam had a beloved preschool teacher for five years, who basically taught him Chinese twice; and the twins have saintly teachers at their school now that they adore); a few families, including Chiungling's; and having several contexts (churches, the General Assembly office here, after school activities) where people look out for our kids. I'd sort of thought my workplace would be the main support network, but ironically it's often been these other settings.